Maas 360 MDM by IBM
MaaS360 is the fastest way to secure your environment. It takes just minutes to gain and maintain control − all from a single screen with our secure, multi-tenant Cloud platform. MaaS360 is the fastest way to enable mobile security for devices, applications and documents with real-time visibility, monitoring and automated enforcement from a secure, multi-tenant cloud platform. When securing your Mobile IT environment can't wait, when you need launch day support for new mobile OS platform releases and rolling updates, and when you demand a trusted provider of secure Cloud mobility services for almost a decade, only MaaS360 can deliver your solution right now.
Quickly gain visibility into what and who is accessing your enterprise systems
Block unauthorised devices and better secure your approved devices
No need to involve a team of people and weeks of work − security can't take that long
Protect your environment and boost productivity by taking advantage of the latest enterprise security features immediately
Block devices which have upgraded if you deem them too risky
Ensure no loss of security and control when users upgrade to the latest mobile OS platform releases Leverage rolling monthly updates so you always have the latest mobile security features and policies available. Immediate updates are provided for all major OS updates when they are publicly available to your users. This is only possible with a 100% Cloud-based platform and a company dedicated to Cloud innovation.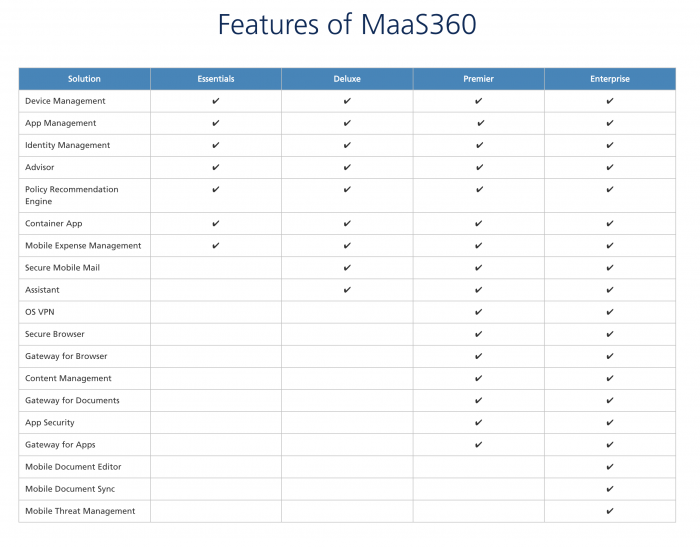 **Licence fee is subscription based and charged per month, per user.
Specification